Out With Boring
Advisor Marketing
In with: Modern websites that drive traffic. Social media posts that get attention. Emails that convert leads. Personalized to you. Automated for you.
Trusted by over 2500 industry leading financial professionals
Automation Never Felt So Personal
Completely customized websites and drip marketing campaigns used to be reserved for big spenders only. Not anymore.
Have questions on how it all works? Want to see a demo?
Three Tools That Make Marketing Effortless and Provide Real ROI
Twenty Over Ten's inbound marketing platform has three tools to help you grow your advisory business.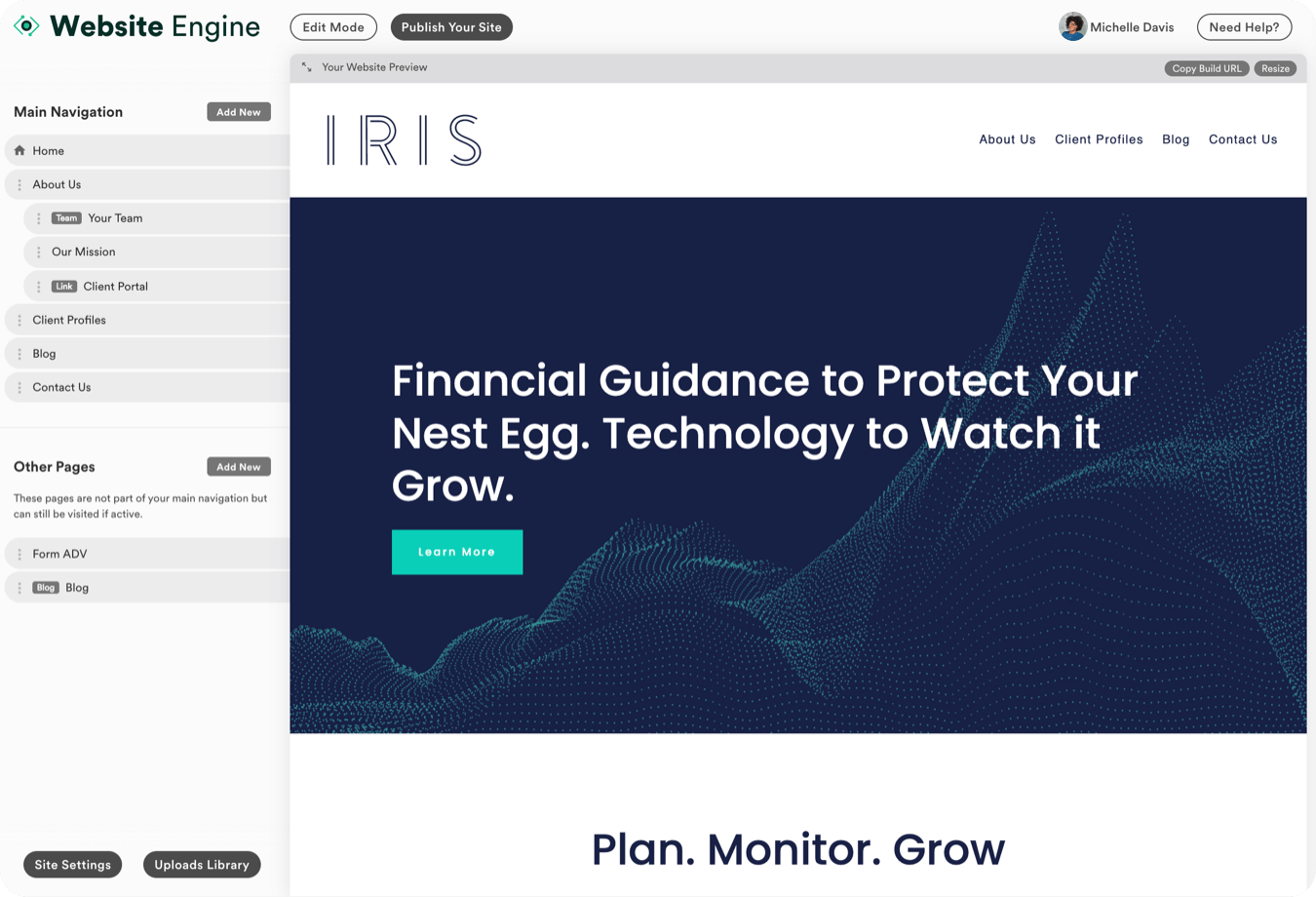 Create a Gorgeous, Traffic-Driving Website
Your website is your digital first impression, so it has to be sleek. Drive more traffic, capture more leads and convert more visitors through completely customized websites built to engage your specific audience. Drag and drop tools make it easy to manage, and an award-winning, customizable content library keeps prospects engaged and improves SEO.
Oversee Communications and Manage Teams To Reduce Cost, Complexity and Risk
Advisors need great marketing to grow, but compliance needs to monitor and supervise. Compliance Core bridges the gap between compliance teams and individual financial advisors. Streamline your workflow, upload firm-specific content, and approve or reject in bulk - all through our one-click compliance submission.
Convert More Leads and Automate Your Inbound Marketing
Boring, cookie-cutter content doesn't cut it anymore. To grow, you need personalized, engaging content specific to each audience. Lead Pilot combines scroll-stopping social media posts, high-converting landing pages, hyper-personalized email marketing campaigns and intel on your leads - all in one easy-to-use platform. Nothing so automated has ever felt so personal.
Thousands of Financial Advisors Use Twenty Over Ten To Grow.
Our tools help you make connections, drive engagement and grow your bottom line.
Innovation in Fintech
Twenty Over Ten is widely recognized as an innovative industry leader within the Fintech space.
Our Award-Winning Support Team Has Your Back
We know the key to enabling your success is providing the best customer experience. We're committed to delivering real-time support to improve your efficiency and effectiveness. If you have a question, we have an answer.
Connect To the Apps You Already Love
Easily integrate with many of the most popular tools for financial advisors including Google Analytics, Mailchimp, Redtail and more.
See What Others Are Saying
Join thousands of industry leading financial professionals who trust Twenty Over Ten.
"We have sent one video email. I sent it at 9 am. Since then, 3 prospects have booked meetings through my calendly after sending this ONE video. Crazy!"

David Pulcini

Sixpoint Financial Partners

"I had a prospect book a meeting with me last week through my Twenty Over Ten website. Turns out he's a $10MM client and was looking for someone new to work with, decided to look around and found me on.....GOOGLE. I asked him what made him pick me and he said the website was the best one by far, felt like it was personable. He signed on last week, we are moving assets now. Crazy to think that someone with a high net worth like that looks on Google for a planner but when you think about it, why not? We look at Google for everything else! Thanks for what you do, it's making a difference!"

JB

Financial Advisor in Pennsylvania

"You guys just don't stop impressing me. I am blown away by the design, content, quality and how you nailed everything."

Mark Sharp

Financial Planning Done Right

"For several years, whenever advisors ask me for recommendations on a website platform, I've been mentioning Twenty Over Ten. I base my referrals on four key qualities: (1) familiarity with financial advisors' specific needs, (2) the quality of the platform, (3) the quality of client care, and (4) fair pricing. ToT is one of the few website providers I've found who have exhibited consistently high standards on all four. Thumbs up from me!"

Wendy J. Cook

Wendy J. Cook Communications

"I've been in professional marketing for 20 years and Lead Pilot is by far one of the best programs I've worked with."

Susan Renard

Alpen Wealth Advisory Group